Introducing:
"The Talent Mosaic" by Digital Mural
Discover a new era of team cohesion and collaboration. The Talent Mosaic is not just an art project; it's a digital engagement tool designed to unify teams and communicate messages.
Whether you're working remotely, in-person, or in a hybrid setting, craft a mosaic of sketches and icons that tell your story.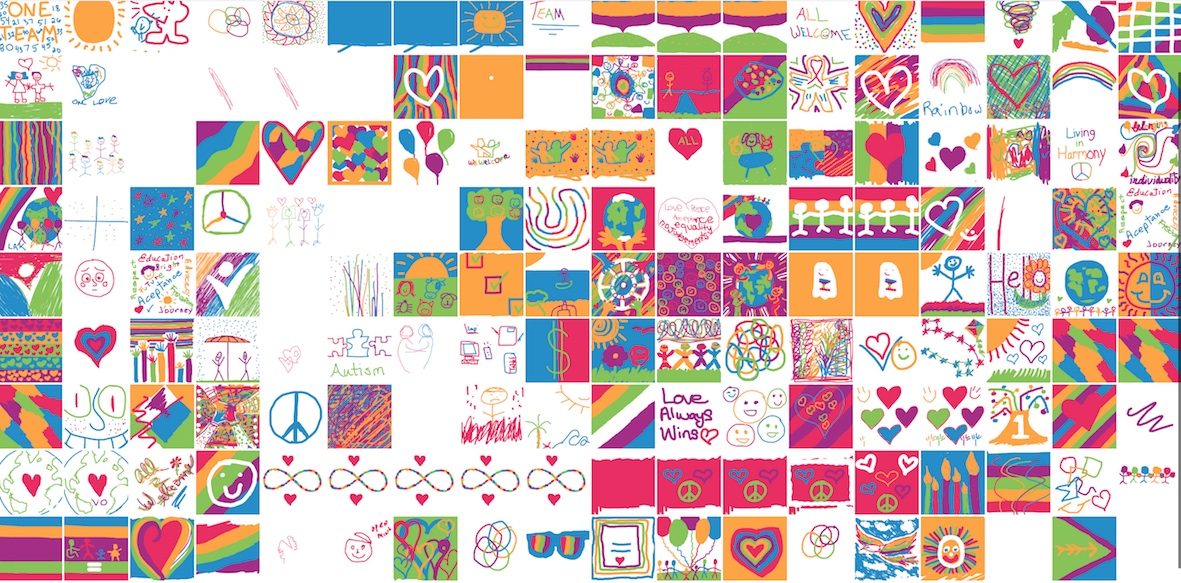 · Universal Engagement: A playful, accessible method that taps into the nostalgic simplicity of our childhood, removing barriers of text and language.
· Either with On-Demand Digital Events: Host digital sessions 24/7, accessible from any device (from $ 1.5.- / person). Engage audiences worldwide and witness the mosaic evolve in real-time.
· …or Tailored Sessions: From quick ice-breakers (from $ 10.- / person) to intensive team-building sessions (from $ 30.- / person), customize your Mosaic experience.
· + NOW – FREE Innovative AI Analysis: Delve deeper into the team's mindset with our AI-driven insights, revealing patterns, and fostering understanding.
In today's hybrid world, fostering team cohesion can be challenging.
With "The Talent Mosaic," we've redefined collaboration.
Whether your team is in-person, remote, or a mix of both, our platform empowers everyone to contribute to a unique visual gallery.
Built on adaptable digital technology, it's a shared space for straightforward sketches and square icons, reminiscent of your favorite social media platforms.
NEW:
From $ 1.50.- per person

Discover:
The Talent Fresco Option
From $ 500.-
Elevate your collaborative creations with "The Talent Fresco."
Curated by the renowned artist aNa, this service transforms your LEVEL 1 mosaics into breathtaking digital masterpieces.
Whether it's a global collaborative project or a localized endeavor, aNa's touch adds an artistic layer that promises to mesmerize.
· Global or Local: From global collaborative projects to localized sessions, the approach is adaptable and versatile.
· Commission Personalized Art: Have mosaics saved in our platform? Commission aNa to create a unique digital artwork, integrating pieces from your collection.
· One-of-a-Kind Service: Experience a service that's unparalleled in the digital art realm, available anytime and tailored to your needs.
The Talent Fresco:
Embark on Your Digital Art Journey
Ready to explore the captivating world of digital murals, mosaics, and frescoes? Get Started Today or Contact Us for personalized inquiries.
Use our Digital Art software for corporate events:
Build your own remote Mural maker community during family events:
OR JUST TO CREATE AN ART SOUVENIR WITH PEOPLE YOU CARE ABOUT.
YOU CAN DO IT ON 7/24 WAY
Your own space and gallery are open 24h/day during several days or weeks
Everybody work together at the same time.
aNa artist turns all your drawings into a Global Remote co-creation
I am an Action and Social Artist who feeds from the confrontation with my audience. Thanks to my artistic approach I show the contemporary art as an accessible area and I want to engage in a dialogue between culture, art, popular and business structures by creating participatory artworks.
My main goal is to provide a very special experience and to involve people into the building of collective master pieces witch will highlight the participant' skills.
We provide tones of options
When you purchase a Digital Mural service
you get:
You can also buy a plexiglass print or digital print wallpaper mural / digital mural wall covering
Imagine a very special artwork done remotely by everybody from the office with aNa standing somewhere else in the world. What a perfect canvas for an office-staging progam.
If your company welcomes customers or guests, you can also imagine to involve people in a couple of minutes.
They play with our tools as they are expecting an appointment or taking a rest.
Create your condominium or hotel personal artwork. Invite everybody living in a place to take part of a digital worldwide art protocole. You can expose a print as a display or very special home-staging detail.
114 NW 25th St, Wynwood,
Miami
,
FL
33127
Monday, Tuesday, Wednesday, Thursday, Friday
09:00 – 5:00