Exclusive numeric event platform for webinars, remote events and on-demand events. Plus, you get an artwork done as a souvenir.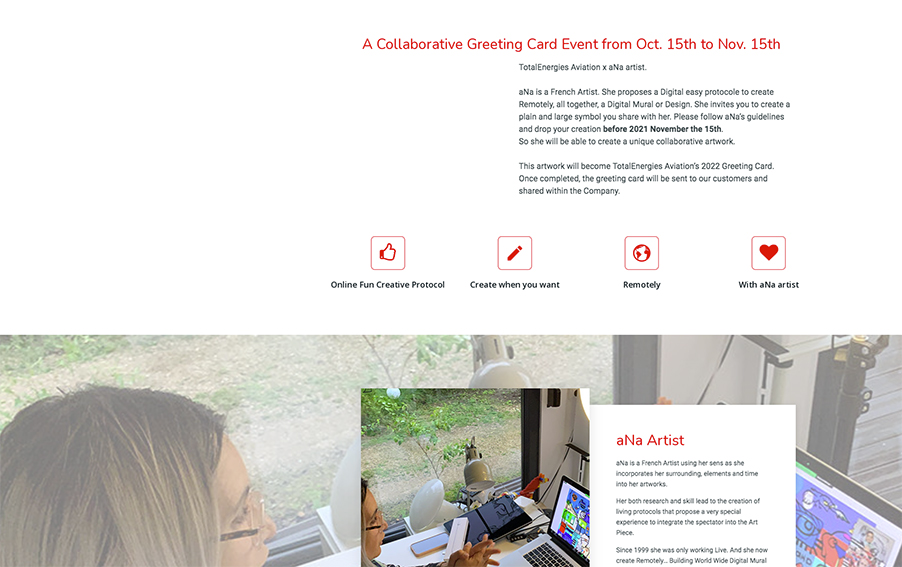 Digital mural is a numeric event platform
Digital mural is the virtual version of aNa artist's collaborative protocol. since 1999 She creates pieces of art by collaborating with groups: teammates, students, families, friends,… She involves everyone in a cool creative program that builds an artwork as a collective memory to be exhibited.

She runs several brands:
and
Digital Mural provides both digital tech and virtual protocoles to extend her approach to a global dimension.
Inviting hundreds and thousands of guests from around the world becomes as easy as planning a barbecue with the neighborhood.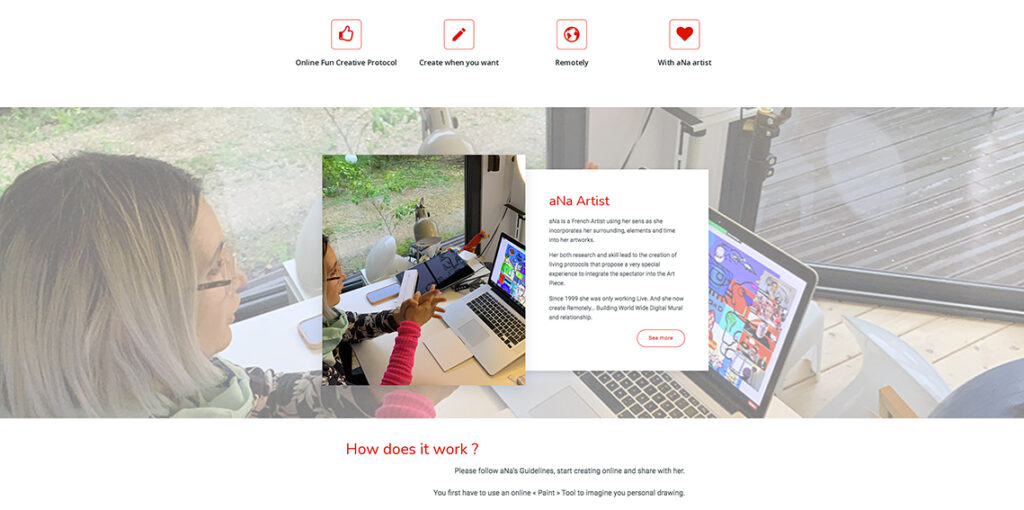 How to organize webinar, remote event or on-demand event
Remote event can not be the same with 10 or 1000 teammates. We design 3 different solutions to make it easy and efficient in every situations. But pricing is only about how many drawing aNa will have to handle.
To see all digital murals offers clic here
Virtual events platform
Top event management platforms
---
Up to 300 drawings
Dedicated link to share
30 day 24/7 access
Global gallery to save and exhibit
Collaborative backdrop file
aNa artist's digital mural artwork
aNa black and white piece of art
With this 300 drawings pack we suggest 3 different ways to imagine your virtual event.
Multiple small groups work online in a live event on the same day.
The ideal solution is to invite small groups – max 30 persons – to collaborate remotely.
In this particular case, people can meet online using Zoom, Teams, Webex… Our platform provides a cool live activity that includes numeric tools, guidelines and a protocol. You can have several groups working at the same time using our technology.
Multiple small groups work online during events within a month.
Our pack includes 30-day access. Which Means you can host several 30-person webinars for 30 consecutive days. You don't need to plan it at the same time, that way It allows you to be the MC of every live meeting.
Online event by yourself
Managers these days really appreciate on-demand events. With this solution, you no longer need to schedule different appointments, you offer 30 days of full access 7/24 to our digital mural numeric event platform.
Your guests or teammates can feel free to join and play the game whenever they want.
This proposal for an on-demand numeric event platform is particularly suited to an international team building. Because you don't have to deal with time issues or days off.
How to create your own collective artwork?
In all these cases, the guidelines are the same:
you share a link with everybody to reach your digital mural numeric event platform which is a personal area.
What a cool collaborative serious game
everybody has to answer the same question. We can help you find the right topic because we know what does work remotely and what doesn't.
to create their own answer, everyone has to sketch a very basic drawing or pictogram. As simple as a child would make it – no judgment -, aNa needs colorful images without words or numbers. Our pack includes a dedicated technology and drawing tools.
as soon as the participant is done, he clicks on a button to save and send his creation to a dedicated global gallery.
aNa can access this space to download each drawing. Then she is able to work on her piece of Art remotely. You can either choose to hide the gallery to manage a surprising effect as huge as possible. Or you can share its link to inspire latecomers or uninspired attendees.
when she has all the sketches, aNa composes a global colored backdrop with them.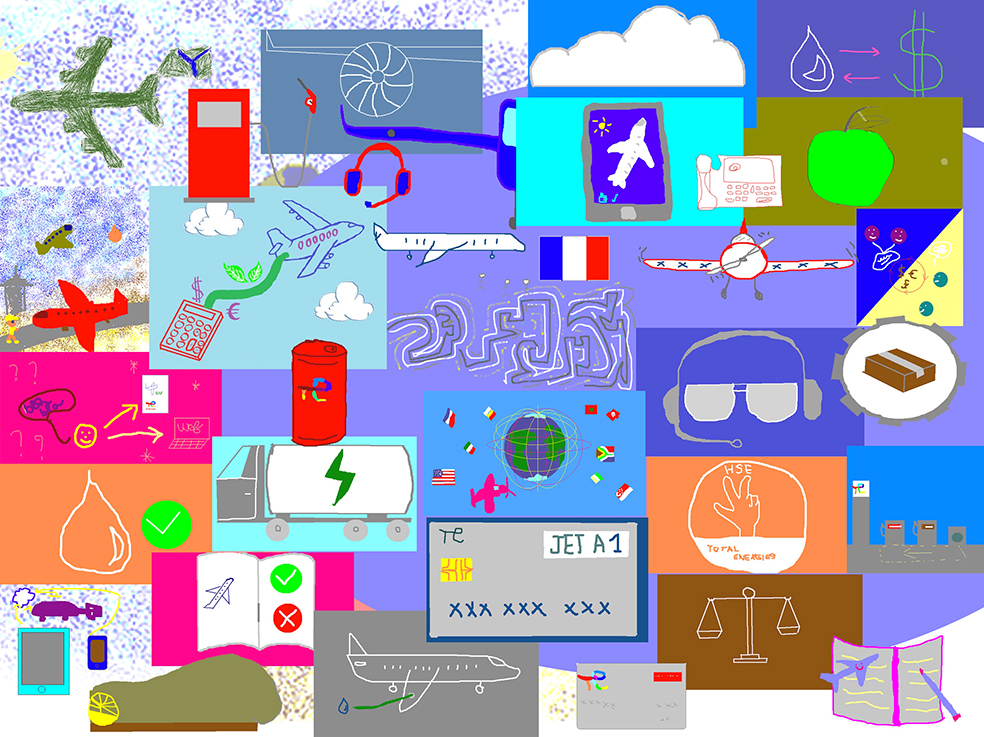 aNa artist unique skills
The intention of all drawn ideas inspires aNa. She designs black lines above the background to combine all the contributions. She imagines characters and virtual scenes to tell a personal story. It has nothing to do with your topic, but you can feel the influence of the answers given by the participants.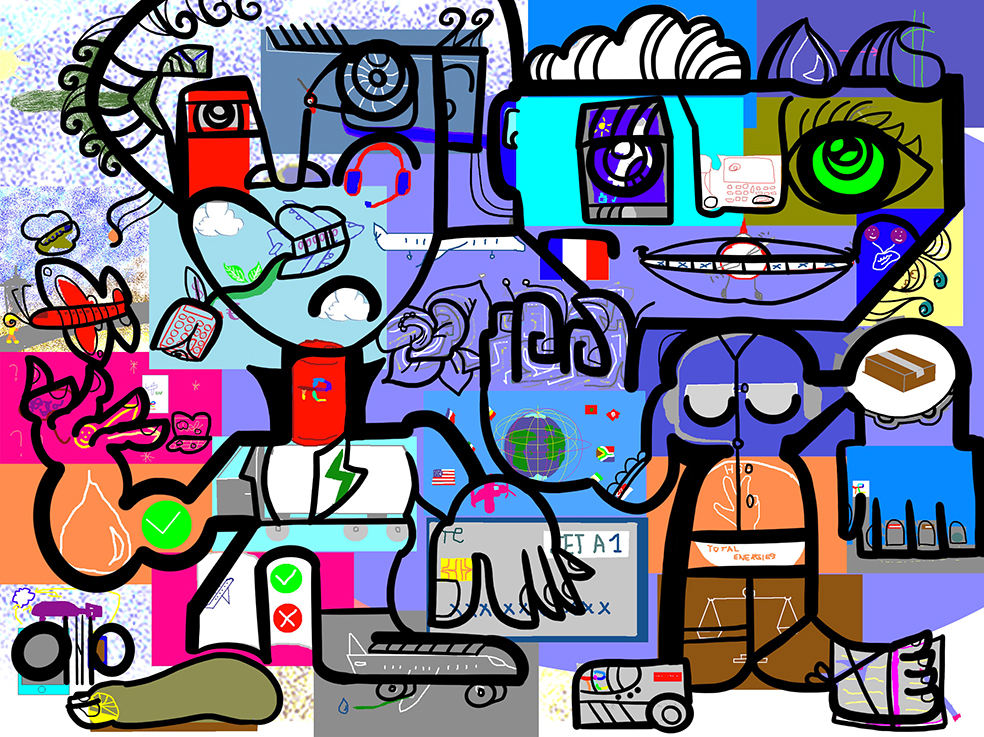 aNa artist's global artworks
after a week of work, aNa is able to send you three different files

the people ideas backdrop
her digital mural
the black and white illustration of aNa without the global backdrop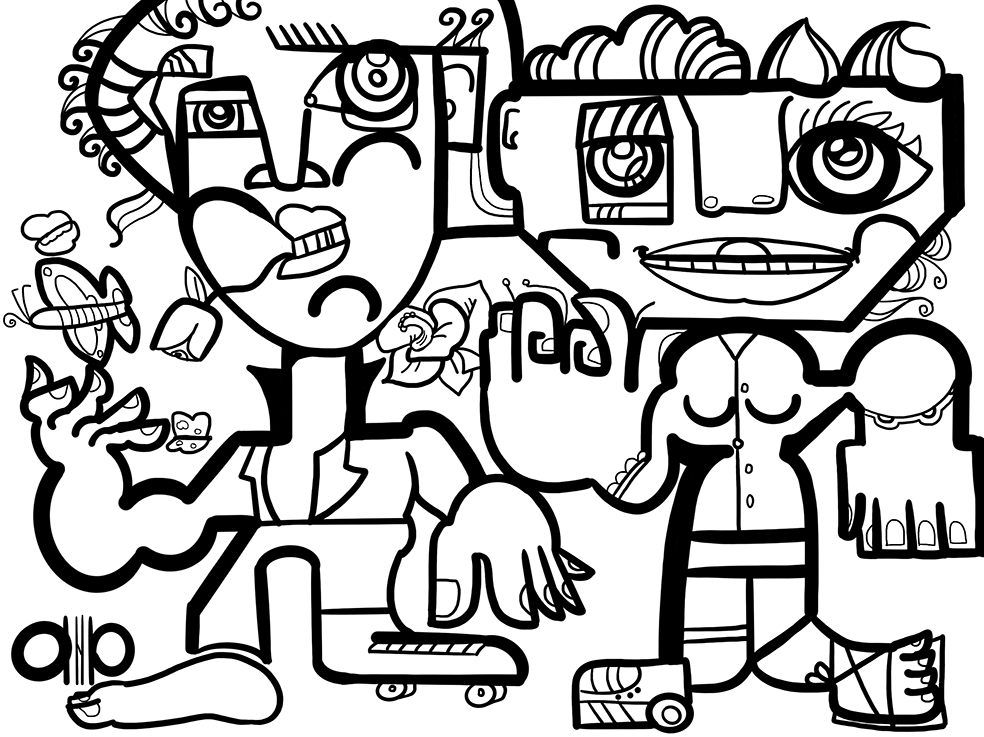 An exclusive artistic Time Lapse
She also sends you a dedicated link to share and reveal a time lapse showing her work in progress.
Tones of souvenirs to share and exhibit
These files represent a perfect digital souvenir that is very easy to share and to display remotely.
If you wish, at any time, you can request a quote for printing. Then You can exhibit a real canvas. You can send it as a printed or virtual greeting card.

There are absolutely no limits about our corporate event management software