Creative webinar activity in collaborative room for innovation management and learning experiences or remote celebrations.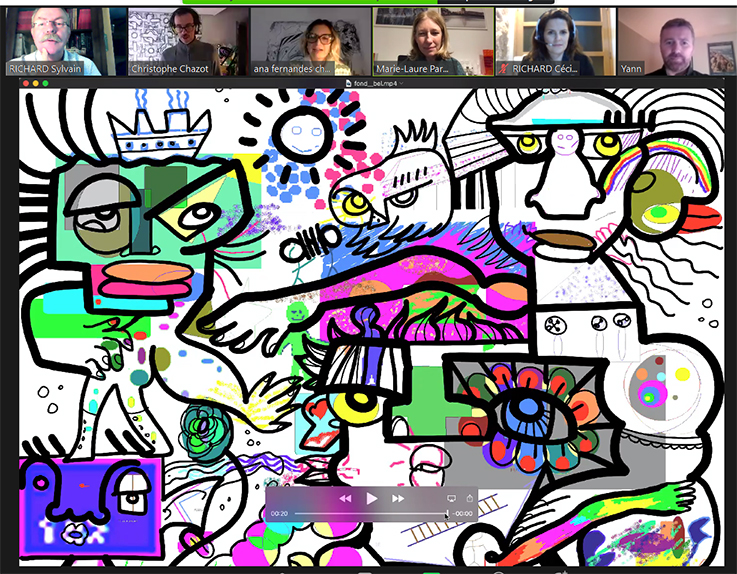 Creative Digital mural webinar activity in collaborative room is the perfect artistic cooperative team building
aNa artist is a French remote artist based in both France and Miami. She invites people to be part of her own art process.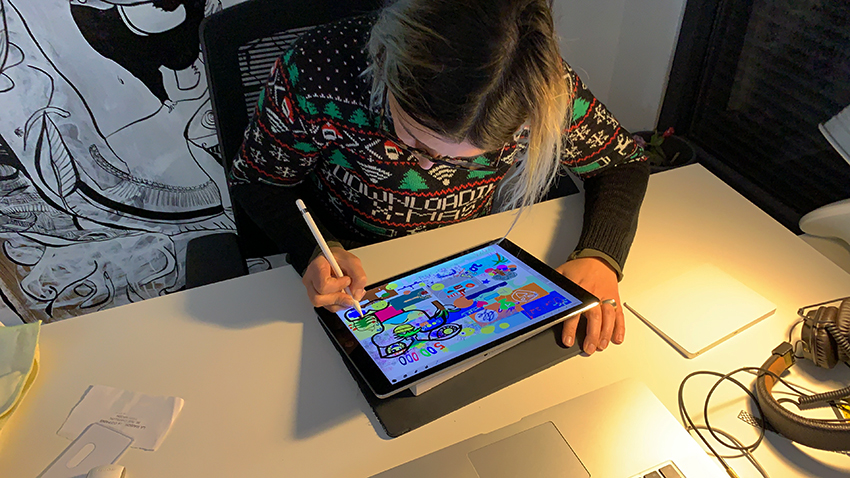 This creative webinar exercice in collaborative room is the first step for you into aNa's fantasy.
You can have an interactive experience with teammates, friends, family… and keep or exhibit a cool and artistic memory.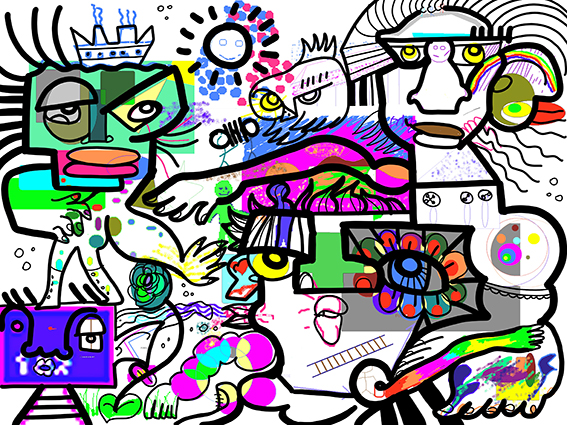 Super creative webinar team building in collaborative room
Innovation management, innovation learning experiences, remote celebrations gift: Birthday, Wedding, Graduation, Baby shower, New year event, Christmas party…
---
Tech and program full access for max 25 persons
1 creative webinar collaborative work (backdrop)
1 community piece of art form aNa artist
1 aNa's creative webinar activity artwork (Black and white digital mural)
1 Time-lapse link to reveal and share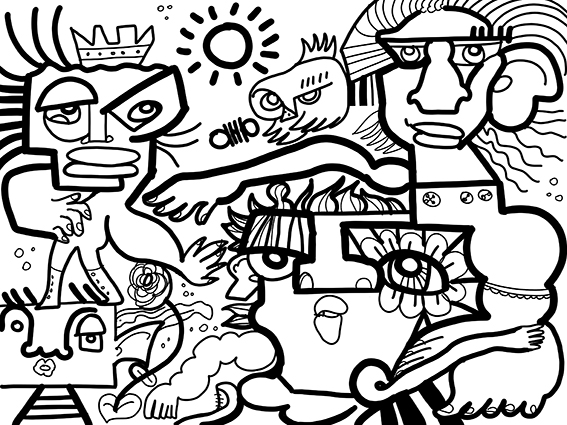 What is our digital mural creative webinar activity in collaborative space made for?
Our digital Mural creative webinar activity in collaborative room gives you the opportunity to imagine a remote online event, with a very fun and easy activity. That way, you all build together, a digital mural to exhibit or share. At the same exact time, You invite your folks to join remotely a collaborative whiteboard. In there, they find different digital drawing tools.
Therefore the goal is to co-create in this numeric area simultaneously.
When your group illustration is done, a professional computer artist named aNa, turns it into a community piece of art.
Our digital event is a good way to invite people from across the country and event from all around the planet remotely.
And the creation of the digital artist aNa is an artwork you can use either for virtual purpose or for a printed exhibition. The artistic object can also become a remote celebrations gift to the participants.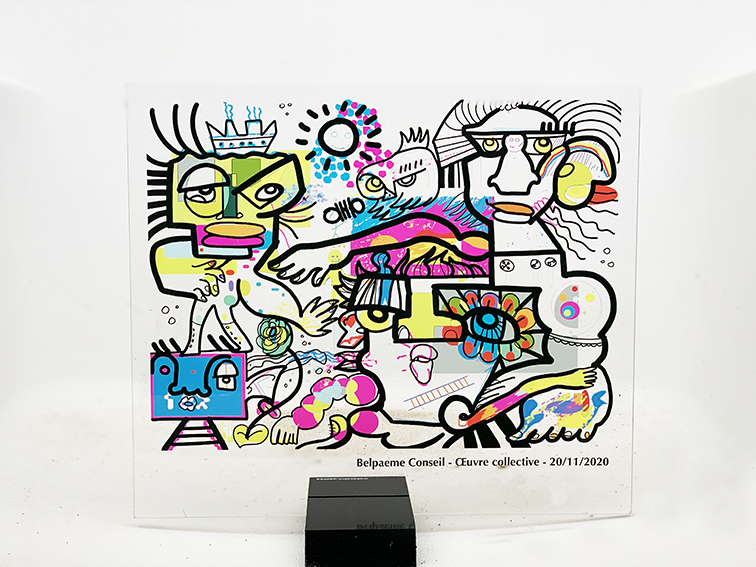 Who can use our creative webinar activity in virtual room package?
Webinar theme examples
Innovation management: A Manager using it as a collaborative exercice.
To talk about collaborative management, you must first understand the profile and the state of mind of your teammates.
So, our creative webinar activity in collaborative room is the ideal solution to check what your teammates think of a dedicated topic.
The exercice looks like a very fun game. It brings you back to school and playgrounds.
The magic lies in the fact that people become very sincere by using the drawing to answer a question. They don't cheat like they sometimes do with words. You can instantly find out what they're really thinking.
And the backdrop that you build that way is the perfect mirror of the global team mind set or feelings.
We can help you build your own protocol for your personal creative webinar activity in collaborative room. Please simply explain your situation and your goal to: contact@digital-mural.com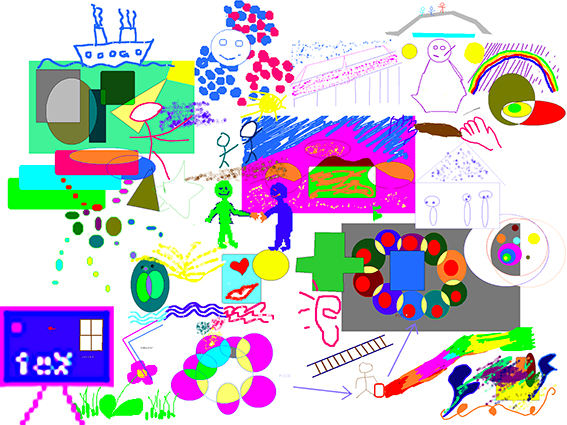 Innovation learning experiences: Professionals for interactive learning
As a teacher or manager, you have to convey and learn new things throughout the year.
In your case, there are at least two different ways to use our creative team building activity in collaborative room.
1 – You can use it to double check if your information is well understood or known. As a test, you can use our creative game. You ask a question to verify if everybody knows the answer. But like in the Pictionary, the audience must do a sketch to answer instead of writing down words or numbers.
This particular exercise is very simple and can help a group automatically recall very important or essential content.
2 – But it can also be a good exercise to share your experience and allow a different way of thinking. Because the world is changing faster and faster, it can be interesting to investigate new details about a content or a rule that you are teaching.
Celebrations: Family – how to make webinar interactive
Birthday, Wedding, Graduation, Baby shower,…
New year event, Christmas party…
Remotely create a birthday party, baby shower, wedding,… souvenir.
1 – invite up to 25 guests to a family zoom or teams event or use any other online meeting solution. So all together you play a creative game on a remote digital whiteboard.
The rule is as simple as: please draw something all together at the same time.

2 – You give a subject, and everyone must draw part of an overall digital sketch, on the same file, and at the same time. This topic should match with the situation (birthday party: remember something about who we celebrate, baby shower: make a special wish for baby's future, wedding: share a secret about one of them… for instance)

3 – your group must collaborate to imagine either a wish-board, a global illustration or just a graphic list composed of each individual pictogram.

4 – when you're done, just save and drop your interactive family creation with one click "add to gallery ».

5 – aNa artist receives your file remotely and starts working on a digital mural.

6 – In a few days, you get the original digital art files and a time-lapse to reveal and exhibit your collaborative work.
Interactive meetings webinars' Goodies ideas
In addition, at any time, you can request printing solutions on canvas, plexiglass, goodies…