Webinar Team building activity is a remote creative exercise of 1 to 2 hours to strengthen the skills of the team through better transversal and mutual knowledge.
How to improve team communication and increase team productivity – 30 persons 1 to 2 hours webinar with 3 steps or questions
What is our webinar Team building activity all about?
What is a fun team building activity?
Each team is made up of different people or profiles. What generally builds a strong community or team is complementarity. But, the most important thing is that the complementarity must work together. You can't just put together a group with different skills that will stay side by side forever. As a manager, you need to ensure or understand how strongly they can collaborate.
On the other hand, the more teammates like each other, the better they work together. To be able to appreciate someone, you have to know this person.
So the digital mural uses the pretense of art to create a virtual artistic playground where people can find out, even from a distance, what kind of team-mate they are.
It creates a very specific community spirit through a cool meeting activity. Short virtual team building activities can make the difference
Plus, like the icing on a cake, you demonstrate how important it is to follow a protocol. Because thanks to our approach, you will be able to create spectacular Artworks remotely.
Cool Webinar Team building activity
As a manager, you need to ensure or understand how strongly they can collaborate.
---
10 to 30 guests at the same time
1 to 3 questions or topics to discuss
1 to 2 hours to work together
Digital collaborative tools and gallery
1 webinar Team building activity artwork (Colleagues ideas' backdrop)
1 remote digital artwork (Collaborative artwork)
1 remote virtual artwork (Black and white aNa's Digital Mural)
aNa's art piece Time Lapse
How does our webinar Team building challenge work?
You can organize whenever you want, a remote team building by yourself. With a dedicated Digital Mural protocol and all the necessary virtual tools.
(There is exactly the same activity 100% supported by our team if you wish to delegate: click here)
You need to plan very specific topics. For example: "what is your favorite movie? – what was your dream job when you were a child? … what would be your wish for next year?"
This way, people naturally share information about their taste and who they are.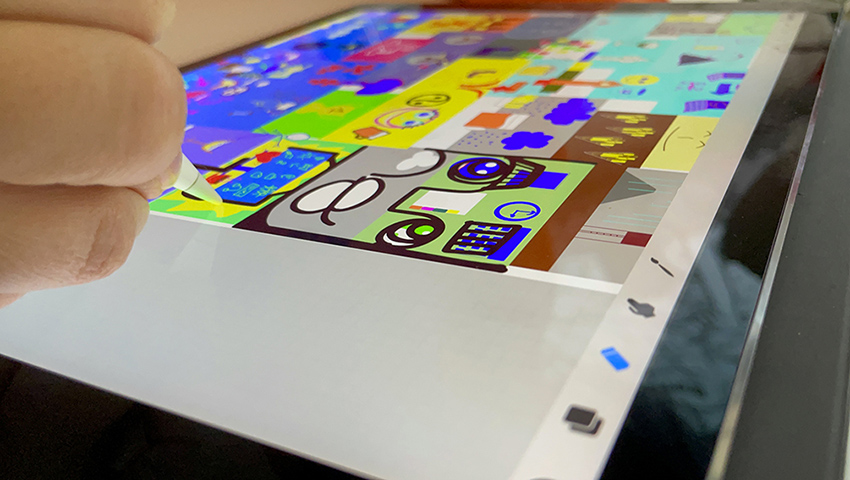 The perfect configuration is:
10 to 30 guests at the same time
1 to 3 questions or topics to discuss
1 to 2 hours to work together
then 2 days to get the final reveal of aNa's digital artwork
If at least one line does not match with your event, you should check out our other proposals "here"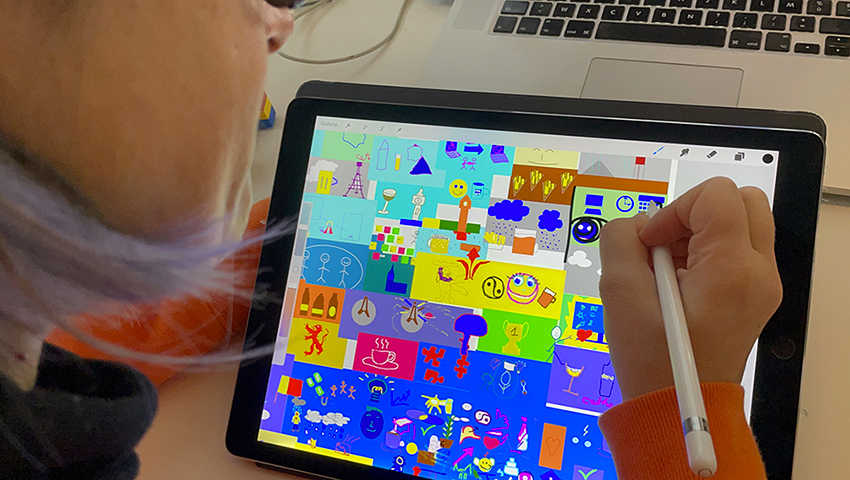 Webinar Team building activity's first step :
Sign in and pay for your webinar Team building activity. We can therefore help you to build your own protocol.
Remote Cool meeting activity activity's second step :
Create a save the date and invite your community with a dedicated Digital Mural link to access your virtual Team building activity collaborative drawing area.
Besides, you have to set up your own webinar video platform like Zoom, Teams or Webex for example.
The Digital mural link will only be used to create online and to share the drawings with aNa artist.
Webinar Team building activity's third step :
During your personal webinar team building activity, you should present the exact same question or challenge to everyone at the same time.
You should let them respond within 5 to 15 minutes per topic. And, most important, they are allowed to answer only by drawing a pictogram, a sketch, a colored symbol… as simple as a children would do.
As soon as a sketch is finished, the participant must click on the "add to gallery" button. It instantly saves the file to a global event gallery. aNa artist can access that file to get all the designs and start working remotely from her world wide studio.
Remote Team building's forth step :
When everyone is done, after about 15 minutes, please reach the global gallery.
So you can access and share the ideas of all teammates.
Take the time to use this particular moment for an interactive discussion. You have to scroll through the gallery, presenting one by one each of the sketches.
When someone recognizes her/his illustration, he or she has to explain the design and the meaning of it.
People really like this experience. And above all, it feeds cross-disciplinary knowledge.
You can choose to hold this particular interactive step either:
after each question or subject treated
at the very end of the event.
The first solution will be particularly effective for a work session on a serious topic
This rhythm keeps a better concentration.
The second one is more entertaining. Indeed, the participants first draw the answer to the 3 questions and then they discover the gallery with all the contributions. This moment becomes a recreation. Scrolling through all the ideas and asking people 3 times what they did creates a real digital event. It can even get so user-friendly that people stick around to chat and have fun online after the webinar!
That makes a huge difference. And you are the only person who can choose the right solution for your situation.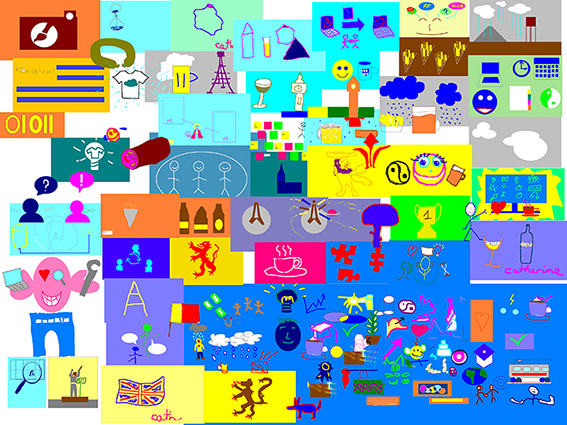 Digital Team building's fifth step :
aNa artist uses all the drawings to create remotely a huge digital mural.
She composes a global collaborative backdrop with your crew ideas.
Then she imagines a black line illustration on top of it. Her personal inspiration creates a dedicated artwork.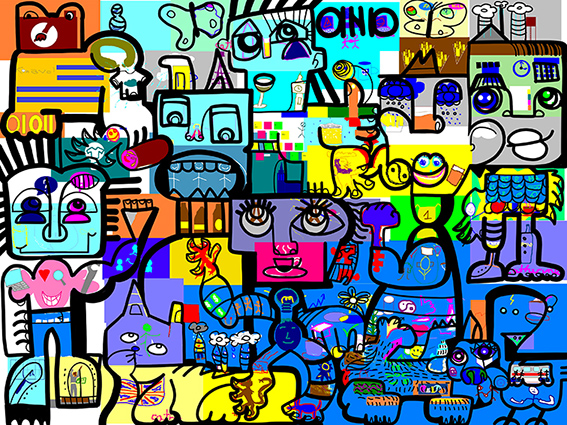 So within two days, she gives your 3 different files to reveal and share :
the backdrop composed by the colorful ideas of the crew by itself
This backdrop plus aNa's artwork with black lines
aNa's artwork by itself
On top of that, you receive a special link to reveal a creative time lapse that shows aNa's chronological work.
Webinar Team building activity's very final step :
You can either
organize a live reveal online
set up a dedicated web page or virtual space to let people discover the piece of art on their own.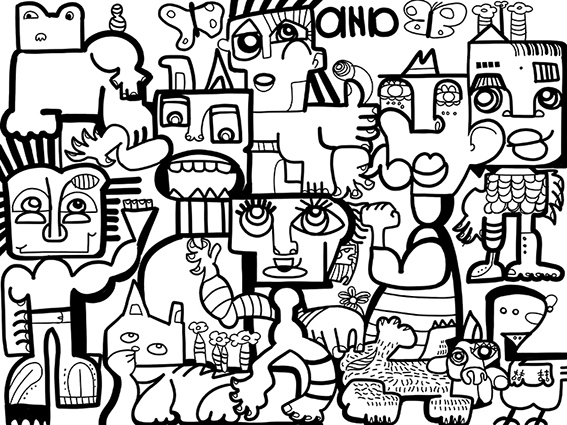 Keep in mind that…
we can do it for you, step by step: choose this offer
you can request a quote for printing or goodies whenever you want. Even days, weeks or months later…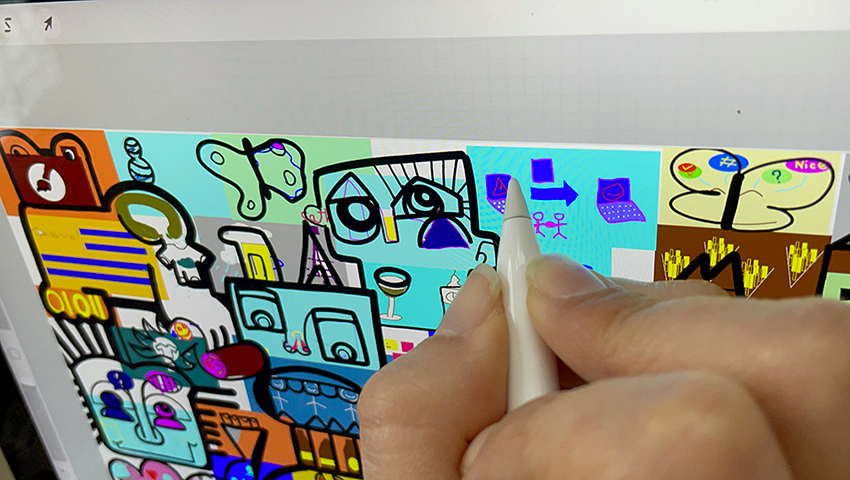 If you rather like a 5-minute team building activities virtual clic here
For large group virtual team building activities, please visite…
Check out 10 not lame virtual team building activities