Virtual creative event for Wow experience webinar. We manage remotely a team building program and build a collaborative souvenir with your nomad teammates.
Digital mural webinar meaning – Deluxe webinar for max 30 guests working remotely on 3 different topics with a digital mural dedicated manager.
Unique Wow experience webinar
One of a kind team building for remote or nomad teams
---
Online creative coaching webinar
Max 30 persons
Remote collaborative exercice with aNa artist
90 max drawings
1 to 3 hours webinar
1 wow experience webinar backdrop file
1 collaborative full colors wow effect webinar artwork
1 aNa's black and white wow factor webinar piece of art
How to create a Digital mural wow experience webinar?
1 – sign up for our wow effect webinar digital mural program
Choose this wow experience webinar proposal. Pay. Therefore you have 30 days of access to prepare your event. You set up a 1 to 3 hours remote event with our team supporting your group or guests online.
Our digital mural team consists of aNa Artist who creates the wow digital mural that comes out from her Wow World. And a coaching teammate who manages your program and aNa's guidelines.
You can have fun with your friends. We take care of everything for you.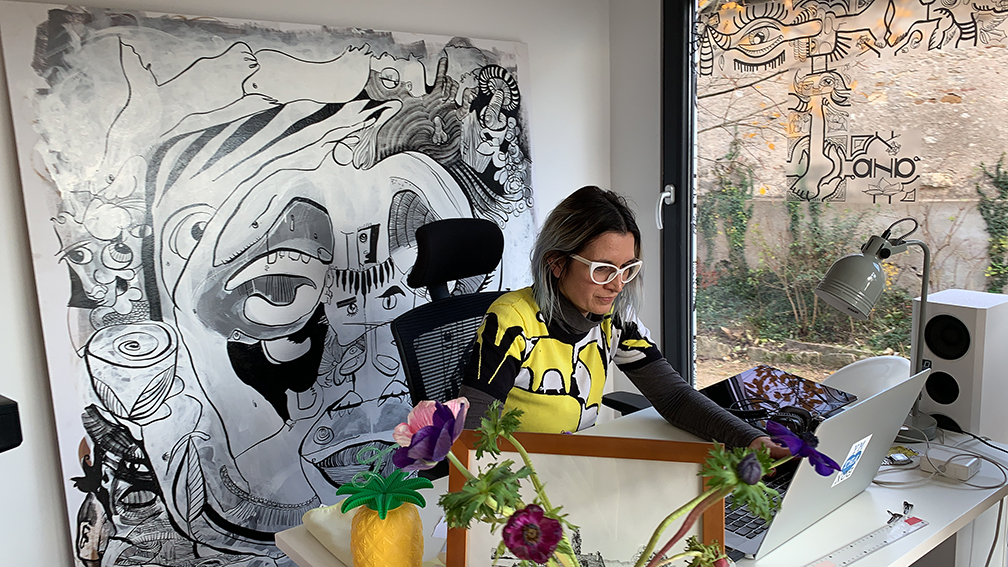 2 – invite your community, group, team, family,… to create online drawings answering a question during a wow factor webinar
After your wow experience webinar registration a link will be given to you. You must share it with the participants to access the drawing tools platform. It allows you to set up an online team building event (to create a save the date).

Together, you and our team, we prepare your personal event program. After explaining your goal, idea or situation,… you will get a protocol dedicated to the wow experience of the webinar.

Thanks to our program, we are able to make people answering a very special question by drawing a symbol or pictogram. Without them using one word. We just need questions as simples as… : "where are you guys from? – what is you favorite drink? – What's most important about life or future?…"

We need to plan 1 to 3 questions for people to answer while drawing. The questions depend on your goal and situation. We help you make a choice step by step.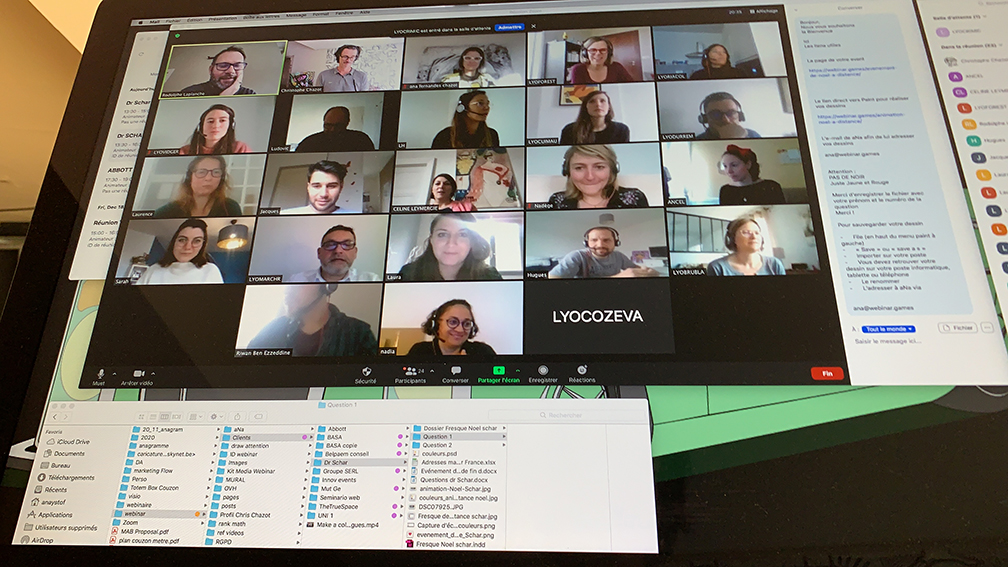 So don't worry. We know exactly how to handle your artistic project. Since the COVID episodes, we've already hosted dozens of webinars around the world this way.
3 – discover everybody's ideas and design
As soon as a person is done with her drawing, she just clicks on the « add to gallery" button to save and drop it into a dedicated numeric space.
aNa Artist has access to that file, so she can start to work on her creation.
She composes a global background made up of everyone's ideas and sketches.
While she works from her nomadic artistic studio somewhere in the world, your personal coach performs with the public.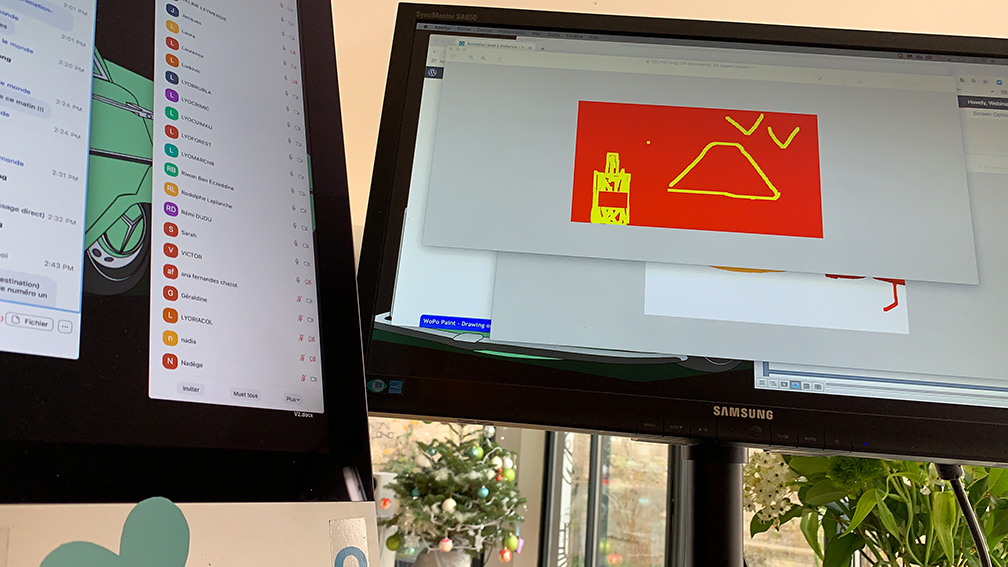 It is very important to present all the drawings one by one. Using the gallery, our coach asks the audience who did what? and why? It's the best way to understand what people have in mind. Or to explore different ways of thinking about a global or particular topic.

So your wow experience webinar can also easily be a remote digital brainstorming.
4 – Get a wow effect when artist aNa reveals what she did with each drawing…
While people are playing this brainstorming game, aNa is working backstage remotely.
She first composes a global backdrop with all the pictures dropped into the gallery.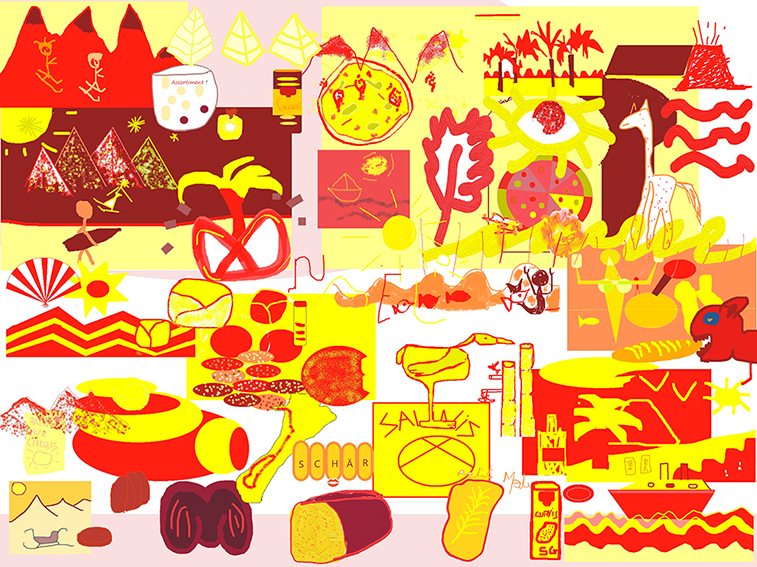 Then, she creates a very unique artwork on the top of it. aNa paints numeric black lines with her digital pencil, which makes a surprisingly cool digital mural appear.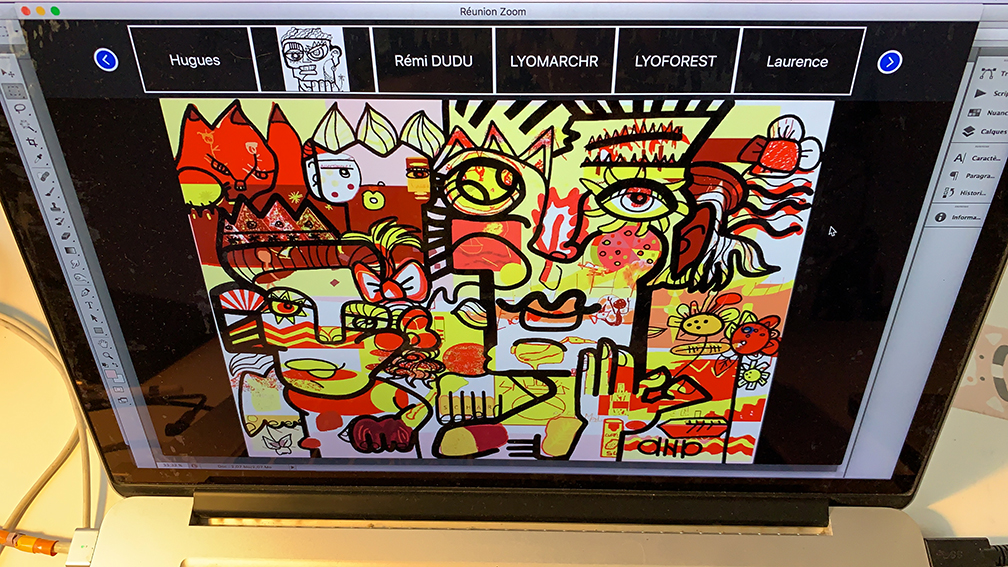 The most important wow factor is the global digital mural picture.
And aNa shares an incredible Time-lapse showing her artistic construction.

This wow factor is the engine of the wow effect. Because your particular audience can discover at the exact same time, from all around the world, an interactive and collaborative artwork in which they participated.
This spectacular digital object would not exist without them, their ideas, their contribution, their sincerity.
Thanks to all of them, aNa is able to provide a very special digital memory you can share either for internal or external purposes.
5 – Turn that wow effect into an office or home staging.
You can choose at anytime to exhibit your piece of art in real life situations. For that, we can print on canvas, plexiglass, wood, aluminium, wall paper, stickers, … and even goodies.
You can't sign in for that option but you can request a quote at any time after (getting feedbacks and reactions from ) your wow experience webinar.
What is an exclusive wow experience webinar with aNa artist?
Our wow experience webinar program is a very cool team building for remote or nomad teams.
This is just like a game because nobody needs skills. We just want to have fun as kids, from a distance. aNa accepts and works with all types of designs.
But this wow experience webinar is a serious game. To engage people, we need a goal. So to reach your own, we create a particular protocol with 1 to 3 questions to lead people step by step, where you expect them. That way, it can be a team building, or a celebration. Our concept is also used for brainstorming and future development. And we can say that it is the perfect remote event for Nomad Integration Day. People can discover who they work with or who they will collaborate with.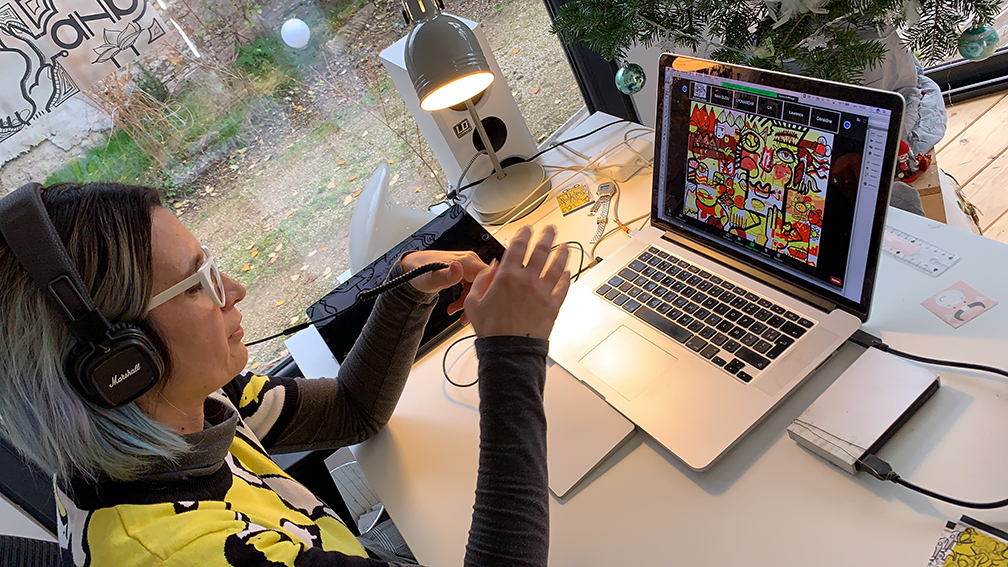 The most important thing is, in any case, that your group collaborates with an international artist. Maybe the first real world-wide artist. Because aNa has developed artistic skills, but based on a collaborative drawing platform with a unique design. She makes the impossible possible. there is no longer a barrier of language, words, jet lag … People simply collaborate sincerely from a distance.

And the wow effect is not limited to surprise. No one can imagine being able to be part of a real work of art in a few hours.
It's so crazy, but aNa makes it happen.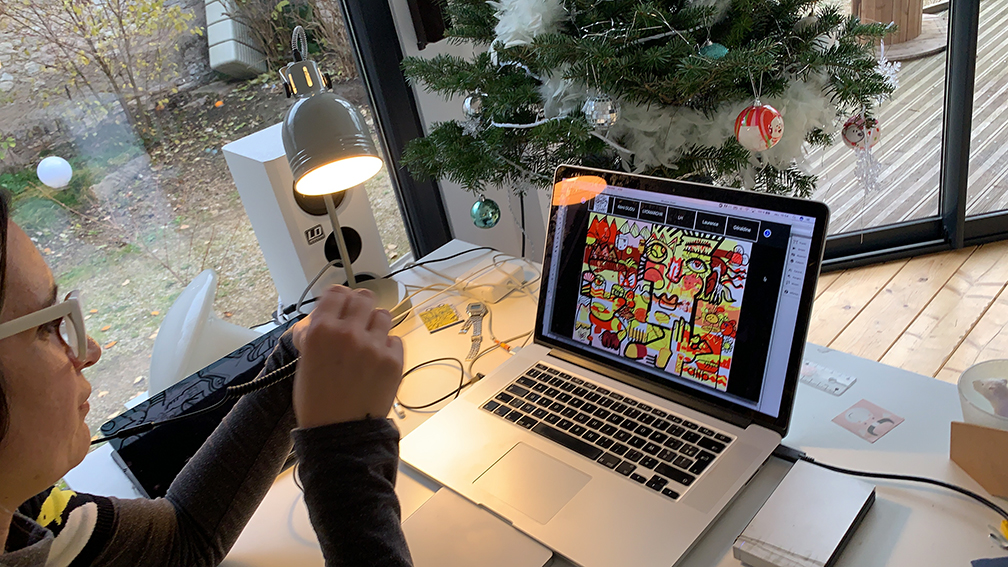 Delivering moments of Wow with procreative support
To improve your online event experience you need to find a way to engage your teammates in a real remote activity.
Unlike typical webinars, the digital visuals of the attendees keep them engaged throughout your webinar.

We make it so easy to produce that it's a fun and very enjoyable time.
Plus, your group build all together a global memory.

So our wow experience webinar proposal is not just about the webinar. It's mainly about engaging your group in a true artistic process. To make them confident and proud. To build a very strong community and feeling.