Design thinking Digital Mural Tool
Unlock creativity with Ana's digital mural tool, where design thinking meets social art. Collaborate remotely with your team to design an illustration on an interactive whiteboard, which Ana transforms into a stunning work of art. Build relationships and boost employee engagement in a virtual environment with this unique approach.
From $ 750.-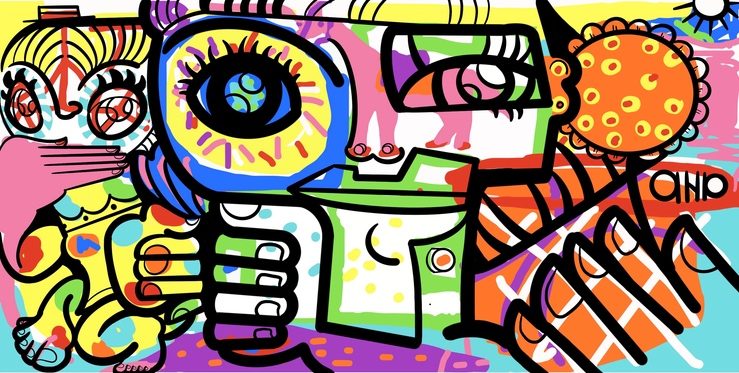 Ana's remote design thinking digital mural tool.
Ana's art is all about bringing people together, and her latest project is no exception. She has created a unique design thinking app protocol that allows teams of up to 25 people to collaborate remotely. Plus they work on a topic using an original and very exclusive method. By asking them to produce a collaborative illustration, they exceed their own limit. They can not use words but only symbols and pictograms. Their is absolutely no jugement. Everyone fells free to produce drawings as basics as children. As a cherry on a cake, they accomplish that mission from the comfort of their own homes, world wide offices or places.
Ana artist's virtual design thinking protocol.
The first step of Ana's design thinking software protocol is to gather the team together on a remote whiteboard. Using video conferencing software, the team goes through the creative process by itself. The goal is to encourage them to share their ideas and collaborate with each other to product a global sketch. The whiteboard is an interactive canvas that can be edited and modified by anyone on the team in real-time. This means that all team members can work together on the same illustration, even if they are located in different parts of the world. Plus, when they sign in, they enter their first name. So each brush is tagged with that personal notification. That way, every body can follow colleague's real time contribution.
How does work that first step?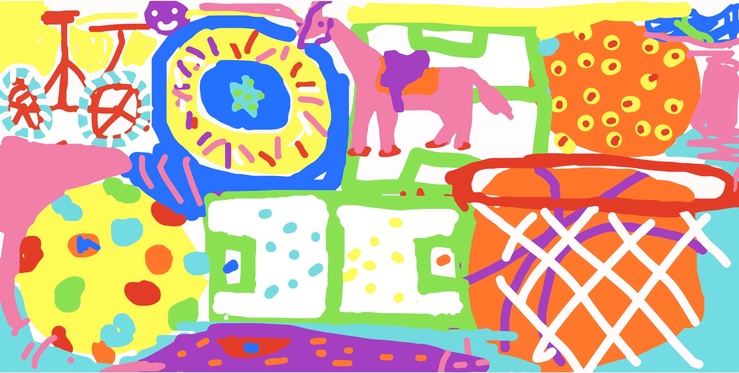 As a manager or an event planer, you have to introduce a collective question. The entier team will have to think together. Because they will have to answer that particular question by sketching a global picture or personal elements that connect to each others. When the image is ended, you just click on one button to share remotely the interactive creation with aNa.
The second step is for Ana to take the collaborative illustration and use it as the backdrop for her dedicated digital mural. Ana uses her skills as a social artist to transform the global sketch into a stunning work of art that represents the collective creativity and diversity of the team.
What makes this project so special is its ability to bring people together in a time when physical gatherings are limited. With more and more people working from home or being nomadic, it can be difficult for teams to stay connected and engaged. Ana's design thinking protocol provides a fun and engaging way for teams to work together, fostering collaboration and creativity in a virtual environment.
The flexibility of Ana's design thinking protocol is also a huge advantage. Unlike traditional team-building activities that require a significant investment of time and resources, the protocol can be completed in a couple of hours. depending on the complexity of the project.
Finally, Ana's design thinking protocol is a great way to boost employee engagement and morale. In today's fast-paced and competitive work environment, it's important for managers to find ways to keep their teams motivated and energized. Ana's protocol provides a fun and engaging way for employees to express their creativity, connect with their colleagues, and feel a sense of accomplishment.
In conclusion, Ana's design thinking protocol is a flexible and engaging tool that can help managers bring their teams together and boost employee engagement, regardless of their physical location. With its real-time collaboration features, customization options, and ability to quickly adapt to changing needs, the protocol is a great solution for organizations looking for a fresh and engaging way to build relationships and foster creativity.