Digital mural remote creative activity allow you to invite hundreds of guests remotely to build all together an artwork during a cool virtual team building.
What is our Digital mural on-demand remote team building activity idea?
Digital mural is an innovating idea from aNa artist. She creates collaborative artworks since 1999.
She now offers a numeric global remote solution for world wide events and team building.
When did that remote activity idea show up?
First because of COVID crisis, aNa artist turn her physical artistic collaborative protocol into a virtual one. She started by setting up webinars with small teams from all around the world. Using existing tools and plugging.
That first step was very cool and efficient with a total of 50 persons in the same time working live with a virtual coach and aNa artist.
How did we growth up?
Due to the success, clients requested larger group remote creative activity solutions. They wanted to involve more and more people from all around the world.
Some remote team building activities
So aNa and her crew developed a dedicated tech to set up large on-demand events. Webinar solution still existes, for max 30 people working live remotely in the same time. But aNa also imagine an on-demand protocole with a 30 days full 7/24 access to your own dedicated space. People do not meet online. But they collaborate remotely, when ever they want or need. Most important here is they are all part of the same artistic process. They build remotely a huge world wide piece of art by collaborating with aNa artist by their own.
How does work our very special remote creative activity
Invite hundreds of guests to be part of 1 of the best remote creative activity ever
That particular numeric remote creative activity idea proposal allow you to invite hundreds of guests remotely.
You don't have to focus on who is available and when.
aNa's team set up a 30 days full access to your own event pack with every virtual tools and guide lines.
Challenge is really easy but innovating :
decide a topic or design a particular question. For exemple : " what is your favorite place to stay? What would be your next travel? What would be your new year best wish?…" It depend of your goal. It can be a personal question if you want a real team building. That way, people can discover each other. Or you can have a corporate question if you need a brainstorming. aNa's team can help you on that construction. This is the most important to engage correctly your attendee.
send your dedicated digital mural link as an invitation
every teammates can access the platform 7/24 during up to 30 days to friendly answer the topic.
we designed an innovating way to share that individual answer. No words, no numbers, no language… aNa artist needs pictograms or sketches as children do. It makes a very direct and understanding answer.
they save and share their pictures by one click online. And aNa receive all of that on a dedicated gallery.
you can choose to either display or hide that gallery.
Build all together a professional artwork
Please…Wait and see.
Within 4 days, aNa artist will create a remote creative activity piece of art.
Means you guys build all together a real artwork by using aNa artist's process.
Your collaborative full colors backdrop
aNa first organise a collaborative backdrop composed with every people sketches.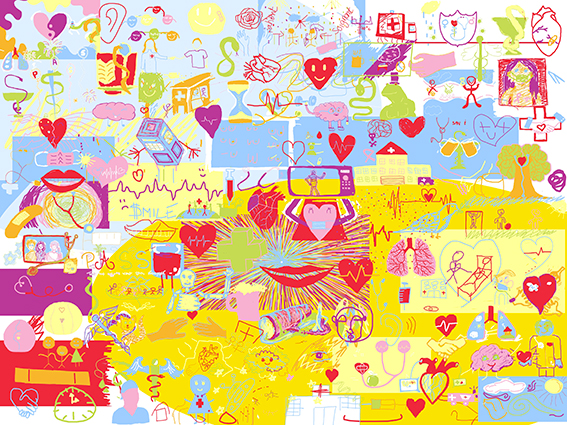 A unique remote creative activity artwork
Then she uses that global decor to imagine her own creation on top of that. She draws a black line illustration running around everybody's ideas.
aNa is inspired by people pictograms because she figures it as her own world. As you see things or animals on clouds into the sky, she tells a story from pixels.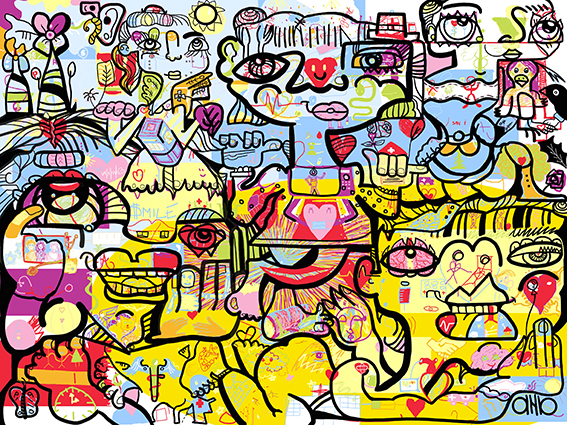 Your global memory
aNa's global creation is a digital mural that concerne all members of your team.
People that play the game can find out where aNa did set up their pictogram. They can be particularly proud of what they did.

If some of your teammates didn't send any picture, this is not a crime. They maybe missed the point. Or they are not confident or creative enough. But they will for sure, be very impressed by their colleagues creativity. They will be proud to be part of such a great team.
Let's do some math
That mean something : such a 200 drawings pack allow you to invite more people. Usually, a numeric remote event on demand idea welcomes from 20 to 60% of your global audience. A 200 sketches program can handle around 300 to 500 remote guests. If you need more, you can add new people at any time. We follow day by day your gallery feeding. So we can alert you if we think you could need more space or time.
Digital Mural remote creative activity is a very cool innovating virtual creative team building
That numeric remote creative activity idea is a very cool innovating team building because you involve people remotely in a very confortable way.
They feel free to answer the question sincerely because they can think about it as long as they want.
And they can sketch the answer in a very particular moment and in a quite place or situation. Their is no rush, no stress… They even can be able to check out for ideas or ressources.
One more time :
if you need a team building, please imagine a personal question or topic. That way people will give a little bit of their own, sharing with colleagues what type of person they really are.
you can turn that protocole into a brainstorming program by setting a corporate topic. This is very different. aNa's artwork will be the same, but the gallery will presents corporate ideas that do not reveal persons. That way, you can verify or remember a corporate information. Or you can use it to involve every one in a future simulation. You can ask what would be the evolution of a product, a feature, a service, a device,…
Want some more virtual team building games/activities ideas?
From $750 for a 25 guys webinar activity in collaborative room

up to $6500 for hundreds of people collaborating virtually during a very fun digital symposium activity